---
Accessed via the menu: Components output to drawing -> Part -> Holes -> Table configuration -> Hole Table Item definition
This sub-menu item describes how templates of <MHDESC> and <CHDESC> combined keywords are created.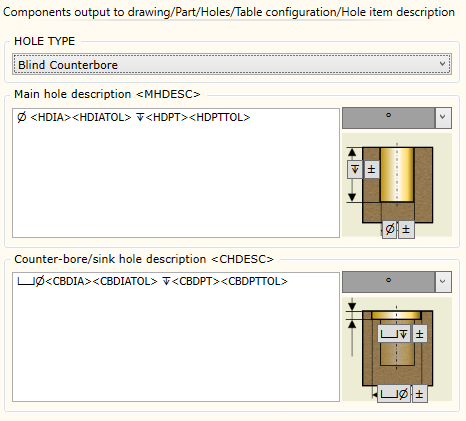 ▪

HOLE TYPE

panel contains a hole type selector. Using the dropdown menu, you can switch between different types of hole templates used for combined keywords. The following hole types are used:
| | |
| --- | --- |
| | Opens command that inserts special characters in the template. |
In the template editing window, the user can enter any text, including regular keywords. To facilitate the task, reminder buttons that are used to insert regular keywords corresponding to the parameter of the illustrating image are provided.
| | |
| --- | --- |
| | <HDIA> - Main Hole Diameter |
| | <HDPT> - Main Hole Depth |
| | <CBDIA> - Counterbore Diameter |
| | <CBDPT> - Counterbore Depth |
| | <CSDIA> - Countersink Diameter |
| | <CSANG> - Countersink Angle |
| | Exports tolerance keyword for the respective parameter. |