Now, using the data in MS Excel tables, we will perform material color replacement. Enclose the PNTF02 material data contained in the column tree in brackets and extract the Veneer type VB 02 material data.

In the New Appearance Code column, double right-click to open MS Excel worksheet data display window. This worksheet is still empty because its configuration is not linked to the MS Excel data yet. Click "Setup" in the top right corner of the window.
A window will appear to link MS Excel worksheet to the replacement configuration window.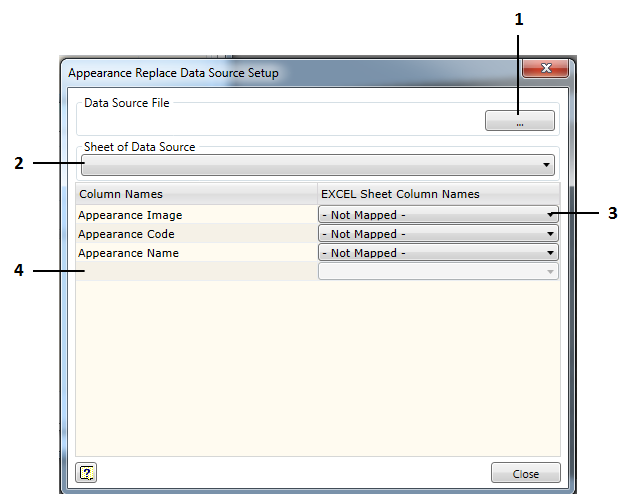 1.Click the button in the top right corner to switch to open file dialog. Then locate MS Excel file Materials.xls and open it. If the installation Woodwork for Inventor add-on was done by default, you will find this file inside the Woodwork for Inventor project – C:\W4INV 2014 DESIGN\PROJECTS\Samples\Replacement Data\Materials.
2. Click the Sheet selection button and open the list of all files contained in the Materials.xls file. Then select the Materials sheet.
3. Link the data displayed in the replacement window to the data contained in the MS Excel file.
a.In the Appearance Image row, click the button to select columns in the MS Excel file.
b.The list of all columns in the Materials sheet opens.
c.Select PictureName column.
d.Link other fields as needed:
Appearance Code –> Code
Appearance Name –> Name (EN)
4. Enter additional fields you want to see in the replacement window.
a. Place the cursor on the empty field and enter your desired name, e. g. Type. Then select a MS Excel column Type for this field and press "Enter".
b. Move to the next row and enter another field – Producer. Then select a MS Excel column Producer for this field and press "Enter".
The linking process is complete. The window will display the following result: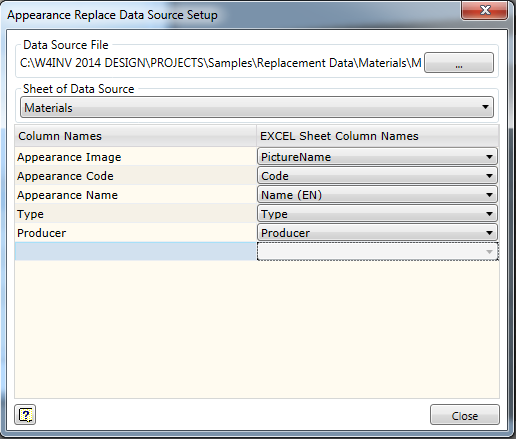 To return to the replacement window, click "Close".