---
This command is used to trim the selected panels with other panels or with the specified working planes.
The command is available
Skeleton Dress Up –> Trim
The command has two modes:
| | |
| --- | --- |
| | The panel to be trimmed is trimmed with the solid body of the trimming panel. |
| | The panel to be trimmed is trimmed by a plane. The plane can serve as a work plane or as a plane surface of another panel. |
Select Panel(s) to trim – the command is in standby mode. It waits for the cursor to indicate the panel body(s) to be trimmed. The panel bodies selected for trimming are highlighted with red borders. The selection is completed when the "Select Bounding Component(s) mode" is entered. Components are then selected that trim the bodies in the collection of panels to be trimmed. The trimming components may be other panel bodies or work planes. The components selected for trimming are be highlighted with blue borders.
The same panel body may belong to only one collection: the collection of panels to be trimmed or the collection of trimming components.
The trim of a panel depends on where the cursor was tapped to select the panel body. If the body can split into two parts during trimming, then the part where the cursor is tapped is kept.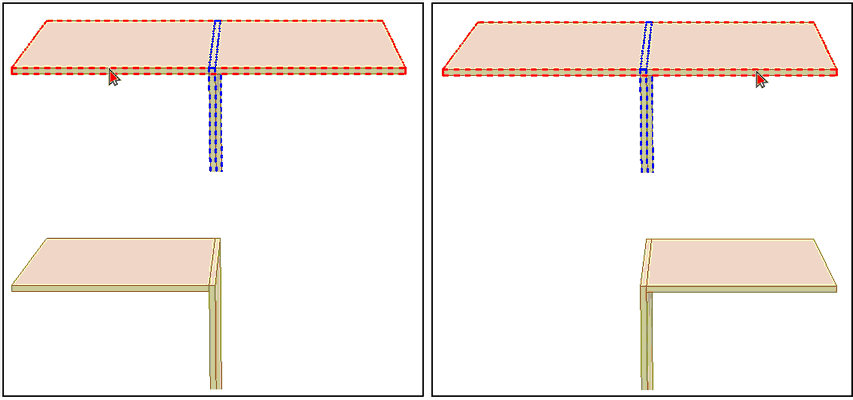 Trimming the panels by using mouse cursor usage
Selecting this mode changes the shape of the dialog.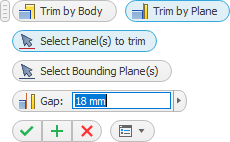 Select Panel(s) to trim – waits until the panel(s) are selected for trimming. The side of the panel to be trimmed depends on the position of the cursor at the time the panel is selected. The same as for Trim by Body.
Select Bounding Plane(s) – waits for you to specify the plane which will be used to trim the panel. The bounding plane can be the work plane or any other plane surface of the panel.
Gap – you can specify the gap to be left before the trimming plane. A gap with a "–" sign means that the panel will be trimmed outside the specified plane at the specified distance.