| | |
| --- | --- |
| Matching configurations of iComponents and Model stage component | Top | Previous | Next |
---
The command is used to perform the configuration matching of iComponents (iParts, iAssemblies) and Model state components of the same origin but of different configuration. During the execution of the command, a template component is selected. Then other components of the same origin are shown for which a configuration needs to be matched to a template component.
The open the command, go to:
Woodwork Design –> Joint –> iMatch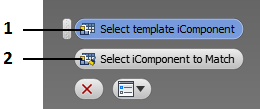 iMatch command
1. Selection of iComponent or Models state component template.
2. Selection of reconfigurated iComponent or Model state component.