A furniture designer deals with flat parts and straight profiles as well as curved sheet metal parts and bended profiles. For designing curved sheet metal parts Autodesk Inventor has a Sheet Metal module, while bended profiles can be created using the Sweep command. Woodwork for Inventor also provides for such design and parts of this type can be included in the list of parts accounted for by Woodwork for Inventor.
The use of sheet metal parts in Woodwork for Inventor
In order for a sheet metal part to be processed by Woodwork for Inventor, such part has to have Woodwork for Inventor materials assigned and, if required by construction, machining oversizes and changing the grain direction have to be set. To do this, first you have to assign Woodwork for Inventor materials to the part when it is in the flattened state. Then Woodwork for Inventor becomes fully functional and all material types, including covers, can be assigned to the part. All assignments of materials will be accounted in Woodwork for Inventor BOM reports. When the part is the flattened state, CAM module also becomes functional and CNC machining can be created for the part, for example by including it in CNC Shape Nesting.
The use of bended profiles in Woodwork for Inventor
In order for a bended profile to be processed by Woodwork for Inventor, one rule of design must be followed: when designing a part, the first construction feature of the part must be made using the Sweep function. Only then will Woodwork for Inventor interpret the part as a bended profile once the Rod type material is assigned. The user can also perform other modelling actions, but the first construction feature must be Sweep. This is not relevant if the profile is straight. In this case, there is no difference as to which modelling function was used to create the profile.
Important! With bended profiles, oversizes can be used only when the part is opened as a separate document or in edit mode.
If the bended profile is designed correctly, the oversize control command shows the length of the straightened workpiece.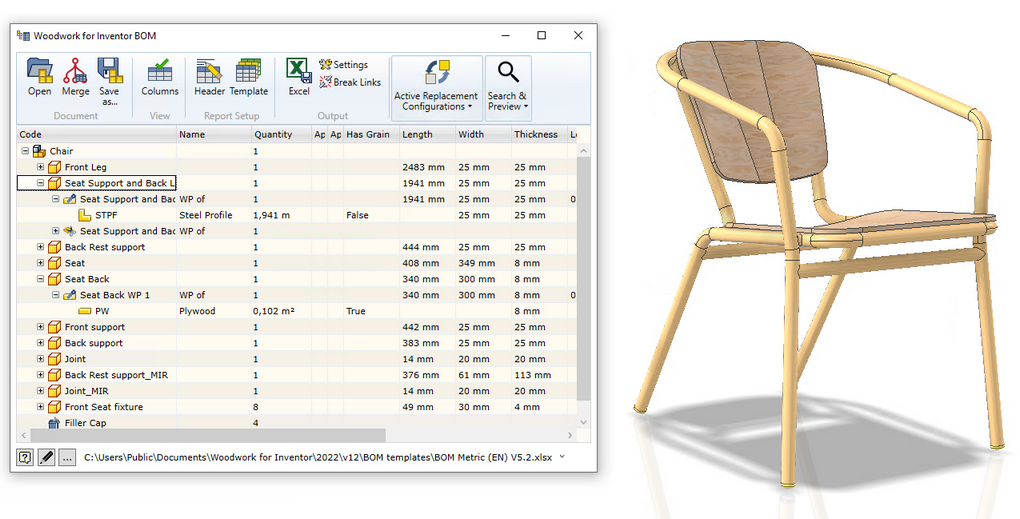 The figure shows how sheet metal parts and bended profiles are fully accounted for in the Woodwork for Inventor BOM generator.