Let us imagine that we have a cabinet body designed using the Multi-Body Skeleton method.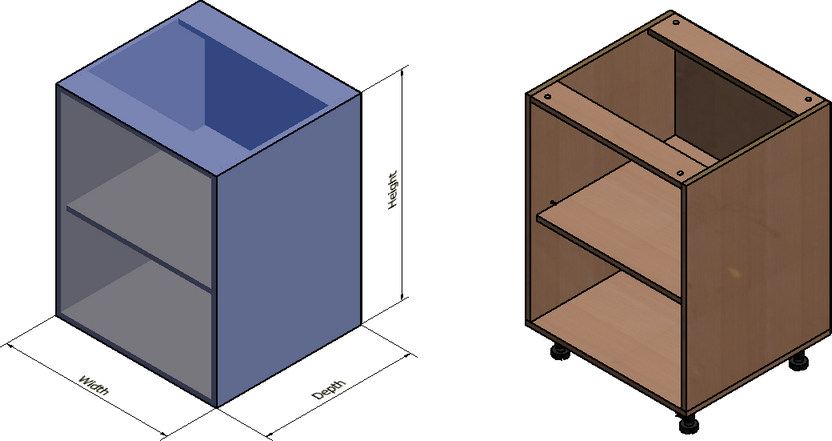 iBox component
It is easy to notice that, when constructing any piece of furniture, its individual bodies (components) can be constructed in a way that their sizes are linked to the initial body that controls the entire structure. That size of the initial body can be managed using the appropriate parameters. For example, the image shows a body with the following controlling parameters: width, depth and height.
When publishing an iBox component, Woodwork for Inventor memorizes parameters that control the initial skeleton body. iMate connects are also recorded; they determine the position of the inserted iBox component within the interior.
| | |
| --- | --- |
| Inserting iBox component before launching the insert command | Inserting iBox component after launching the insert command |
When inserting an iBox component, the command automatically creates a copy of the iBox component and calculates the size of the body to which the iBox component is linked. The parameters controlling the iBox component skeleton (width, depth and height) are also adjusted accordingly. The adjustment prompts a Rebuild of the iBox component. The component is also displayed in the context of the entire interior skeleton. This iBox component memorizes the interior skeleton body to which it is linked. When the size of this interior skeleton body is changed and iBox update command is used, the inserted iBox component is updated based on the changes made to the interior skeleton. This applies to all iBox components inserted into the assembly in this way.
Any component designed using the skeleton method can be published as an iBox component. Typical examples of iBox components are various cabinet bodies, drawers, assemblies of doors and hinges, assemblies of shelves and mounting pins, etc. iBox components may include iLogic rules that allow creating Smart components. A drawer could be an example of such component. In this component, the length of rails is non-linearly dependent on the depth of the drawer opening. This dependency can be realized using iLogic rules.