The way the Assembly Copier treats files during the copying process depends on the file type.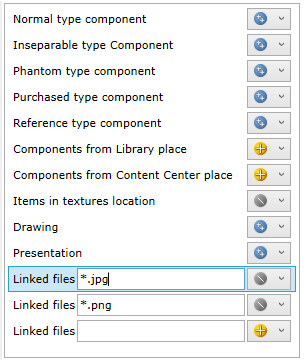 The following treatment models are possible:

- Copy. The file is copied and all its links are copied to the new file. All subcomponents (if any) are also copied.

- Reuse. The old file is reused or left. All links in the copied files remain with the old file. All subcomponents (if any) are also left.
- Partial Copy. Shows that the file contains links to other subcomponents and some of them can be copied, while others remain during the copying process.

- Do not load. Components that do not load and are not displayed in the window. To reduce the volume of displayed information, these components can be hidden, but they will remain in the copied item as components reused by the Assembly Copier.

- Behave by type. Components that are stored in Autodesk Inventor project specified in the library or Content Center path can have additional behaviour model. This is a request to behave as components behave depending on their BOM type. For example, if you have a Normal component, it will behave as Normal components should according to the description. If you have a Purchased component, it will behave as a Purchased component.
In the additional fields of Linked files, the user can freely specify additional file types and their behaviour.