Woodwork for Inventor plug-in fixes the above problem because it has a material assignment command, which allows the user to assign a fill material to an Autodesk Inventor part and assign covers to separate faces of parts. Such a method enables the user to fully define furniture parts without overburdening the design process with unnecessary tasks. Sometimes, however, it can be unclear as to what – a furniture part or a furniture workpiece – has been modelled in the CAD system during the design process. In some situations during furniture modelling, it is more convenient to model a workpiece, while in others it is more efficient to model a part.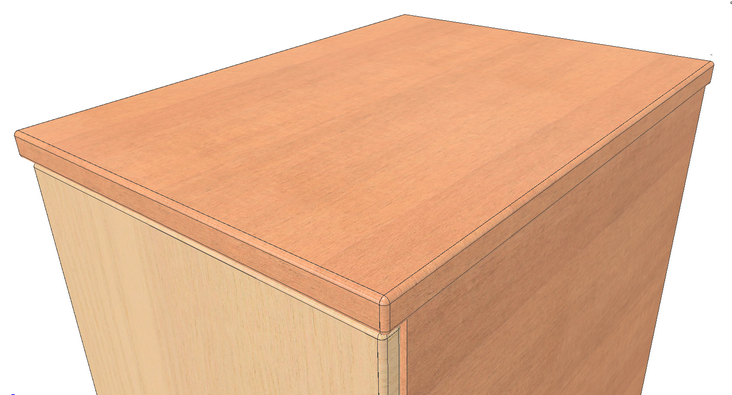 Construction situation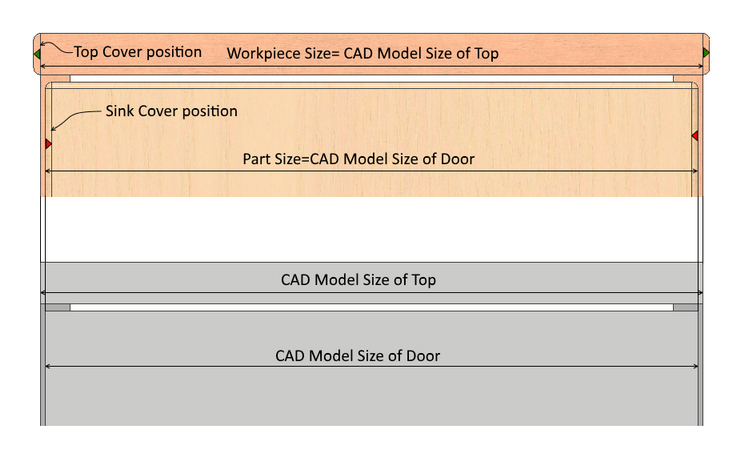 Different types of size calculation according to assigned cover materials
For instance, when modelling a drawer, it is more convenient to model the top of the container cabinet as a workpiece, later defining that the edge band of the part will be attached to this workpiece. In other cases, for example when modelling a cabinet door, it is convenient to model the final dimension of the part, by specifying that the edge band placed on the part is "sunk" within the CAD model volume. Therefore, the dimensions of the door workpiece should be proportionately reduced in the estimates.
Woodwork for Inventor provides the opportunity to indicate whether a cover should be calculated as "attached" to the CAD model or "sunk" within the CAD model volume (it is called cover positioning with respect to the CAD model). Based on the above, two sets of dimensions are calculated:
▪

Part Size

- obtained after the production of the part is completed, i.e. after the part is cut from a fill material, mechanically processed (if needed) and coated with required covers.
▪

Blank Size

- obtained and required when the part is being cut from a fill material.
Note. When assigning covers to parts, Woodwork for Inventor does not make any changes to the CAD model geometry. The assigned workpiece covers affect only the measurements calculated by Woodwork for Inventor, which are used in various reports and to generate CNC programs