To obtain replacement item data, material/colour replacement configuration has to be linked to MS Excel worksheet of your choice. To do this, you will first have to open the item replacement window. This is achieved by clicking on MS Excel file icon in any cell.

A dialog box is opened. You can use it to make item replacements by selecting the desired replacement item from the table. If the configuration has no MS Excel source, the table will be empty.
▪

Setup

- allows linking material replacement configuration to

MS Excel

worksheet.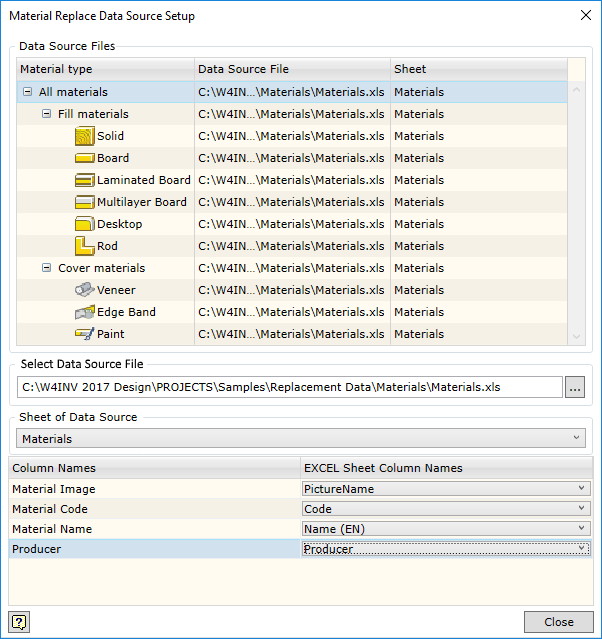 ▪

Data Source Files

- a browser panels displays all material types in a tree structure and the specific sources that will be used for the specific materials when completing replacement item tables. Each material type can have its own replacement source. On the other hand, you can specify one source for all material types. This can be done by placing the cursor on a higher branch of the tree structure in the browser.
▪

Select Data Source File

- selects

MS Excel

data file that will be used as a source for the item selected in

Data Source Files

browser.
▪

Sheet of Data Source

- selects the worksheet of

MS Excel

file specified as

Data Source File

. Below is a table in which columns from

MS Excel

worksheet can be linked to the fields in the replacement item table. The following three fields are given in the initial linking stage:
✓

Material Image

- this field allows linking

MS Excel

worksheet column containing file paths to images that help to better illustrate the content of the replaced item. These images have to be stored in the same directory, in which the file is stored. Or images can be stored in a separately created subdirectory located in the same directory as

MS Excel

source file. There is no requirement to link this field.
✓

Material Code

- this field allows linking

MS Excel

worksheet column containing material codes. This field must be linked.
✓

Material Name

- this field allows linking

MS Excel

worksheet column containing material names. This field must also be linked.
The user can create their own fields that facilitate navigation or are used as additional fields describing materials. For example, a producer field or a field defining fire resistance of the material, or a field indicating that the material is in stock, etc. If necessary, these additional fields can be exported to BOMs. To this end, the appropriate keywords can be used in BOMs. For example, if you want to export Producer characteristic, enter Material.AddedProperty.Producer keyword in the BOM. Click here for more information.
Linking colour replacements
Colour replacements are linked to configurations in the same way as materials; only material types for which colour replacements can be specified differ. Colour replacement sources can only be specified for the following material types:
Important! If colour and material replacements are linked to the same MS Excel worksheet, colour replacement automatically leads to material replacement and vice versus.
Linking purchased product replacements
Replacement items can also be provided for purchased components (Hardware). In this case, the difference from material and colour replacement is that only one MS Excel file and one MS Excel worksheet can be specified as the source of replacement items.