---
The command performs collective enabling/disabling of the specified components. This helps the constructor to control the design content and highlight or hide certain content of the product being designed during a required design process stage. Sometimes it is useful to disable Woodwork for Inventor parts and leave the visibility of only purchased components that can be expressed as invariants in order to be able for them to set required configurations. In addition, in this command you can create assembly representation configurations which can be conveniently used during drawing generation.
To open the command, go to:
Woodwork Design –> Visibility Control –> Components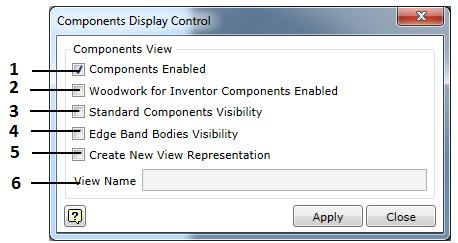 1.

Components Enabled

- disabling/enabling

Autodesk Inventor

components.

Purchased (Standard)

components and components having

Woodwork for Inventor

materials are not included in the set.
2.

Woodwork for Inventor Components Enabled

- disabling/enabling of the components having

Woodwork for Inventor

materials.
3.

Standards Components Visibility

- disabling/enabling of purchased (

Standard

) component representation.
4.

Edge Bodies Visibility

- collective disabling of the visibility of the edge bodies automatically generated by the Edge Band Wizard command.
5.

Create New View Representation

- Creating a view representation with a specified name. If this option is selected and some representation status is being changed, the command will automatically create a view representation reflecting the specified assembly status.
6.

View name

- name editor window of the created representation.