The code and name replacement of purchased products is performed in the same manner as the replacement of the color definition, thus the following explanation is provided in a shortened version.
Return to the Replace Configuration window.
Create a new hardware configuration. In the bottom of the Hardware Configuration window, click "New" and name the new configuration Hafele configuration.
Move to the New Code column and double left-click on the entry 5x50;Confirmat.
Go to the replace from MS Excel window which is currently empty. Set up a link between the replacement window and the data contained in the MS Excel worksheet and click "Setup".
Select Hafele Hardware of Furniture.xlsx. data sheet which is located at
C:\W4INV 2014 DESIGN\PROJECTS\Samples\Replacement Data\Hardware.
Select Hafele Hardware sheet.
Set up a link between the columns displayed in the replacement window and the MS Excel columns.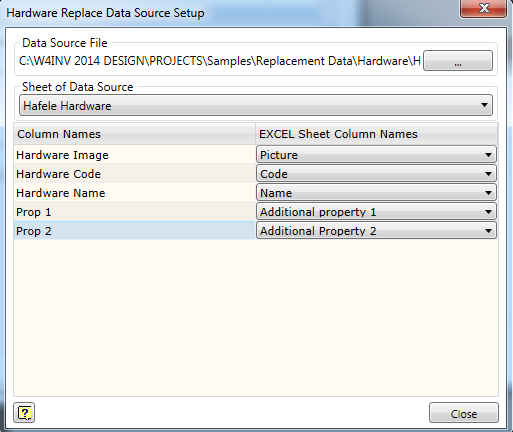 To return to the replacement window, click "Close".
Type the phrase Confirmat in the search box. You will get a filtered list containing available Confirmat hardware items. Select the most suitable one and double left-click to exit the selection window. Upon exit, the replacement values will be automatically applied to a given item.
Move your cursor on the next entry and repeat the procedure above. In the Search field, enter Cap selection phrase and select D12 cap of required color.
To select a screw, use the selection phrase "Connect".
"Minifx" for Minifix eccentric
"Dowel" for wooden dowel
"Cap" for D15 cap.

The resulting replacements should look like this.