---
The command starts automatic plotting of the drawing bundle. The plotting is performed for the open and active component. Such component may include an Autodesk Inventor Part or Assembly.
To open the command, go to:
Woodwork Design –> Auto Plot –> Plot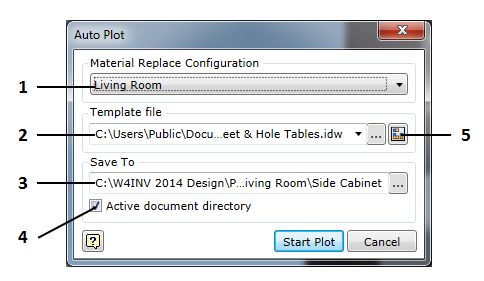 1. You may select a replacement configuration created during BOM generation. The names of the new materials saved in the replacement configuration are used in the drawing data fields indicating a Woodwork for Inventor material.
2. Selection of the auto plot template. Based on the selected template, a relevant drawing bundle is formed. The pre-designed templates are located at:
C:\Users\Public\Documents\Woodwork for Inventor 2014 v5\Auto Plot templates
3. Selecting a location for saving auto plotted drawings.
4. Specifying that drawings are to be saved in the active path (location) of the auto plotted component.
5. Opening a selected template for editing.