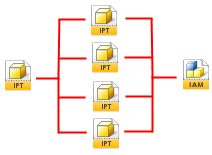 The Skeletal method uses Inventors ability to 'Derive' Parameters, Sketches, Blocks, Work features, Features, Surfaces and Bodies between parts.
Basically, you create all your Parameters and sketches in one part file and then Derive the required parameters and geometry into separate part files*. You then build your part features in each part file using this shared geometry.
The beauty of the technique is that when you come to place your parts into an assembly, no constraints are required! You can simply insert all you parts at their origins and ground them.
No constraints are required because all the parts are in the right place. Any changes to the underlying geometry in the 'Skeleton Model' part file will be propagated through all the parts that are based on the Skeletal model.
You can still 'Un-ground' a part and build in constraints if you need them. There is usually no call for Adaptivity, because the cross part relationships are handled outside of the Assembly model.
This technique would not necessarily be appropriate for Assemblies that use all 'Stock' parts. It is important to remember that the 'Skeletal' model file must be managed along with the rest of the files that make up the assembly. This technique is very useful when you are creating a model that uses a large number of Bespoke parts, that will not be useful in other assemblies.